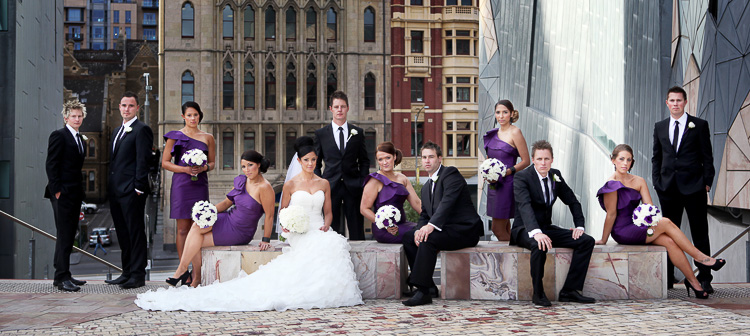 How do I choose the right Photographer?
That's easy, pick me! Well, maybe we should meet first. Choosing the right
wedding photographer
is about finding someone you like and understands what you're looking for. You also have to be sure you'll get fantastic shots that only an experienced professional photographer can deliver. If you like what you've seen on my website, give me a call so we can chat about your day and make a time to see more of my work.
What is your photography style?
My style is portrait-journalistic. That means I take a combination of directed and candid shots making sure every detail of your day is recorded and you also have the gorgeous portraits that you'll treasure forever. This balanced approach also ensures you have maximum variety when it comes to designing an album or ordering prints.
How much coverage do I need?
That's entirely up to you. My standard packages cover everything from Bride and Groom preparations right through to cake cutting at your reception. Every wedding is different so please give me call and we'll work out what will suit your day.
What type of albums do you offer?
Albums are hand crafted magazine style with full page digital images. This allows you to tell the story of your day and highlight your favourite shots. All album components are of the highest quality and every image is beautifully retouched to create a work of art that you treasure forever.
Do I need pre-wedding photography?
This gives us the perfect opportunity to get to know each other, have some fun and show you that I can indeed help you relax in front of the camera! Not only will you get fantastic images you can use for save the date cards, invitations, or hang on your wall, but we get the chance to work together before your wedding which makes all the difference for an even better experience on your big day.
Are you an AIPP member?
Yes. I'm a Master Photographer with the AIPP (Australian Institute of Professional Photography) and bound by a strict code of ethics. You can rest assured that I provide outstanding service and professional products and services.
Can we meet to discuss our wedding?
Absolutely! I would love to meet and find out exactly what you are after. You can also see more of my work and get to know me before making any decisions. I'm available most weekdays and evenings and some weekends if I'm not shooting!
Do you travel?
Yes. I shoot weddings all over Victoria and also travel interstate and overseas. It's my dream to photograph a wedding in Bali, my favourite overseas destination!
How soon after our wedding with our photos and album be ready?
I aim to have your photos ready 3 weeks after your wedding. Once you have your photos we arrange a date for the album design workshop. Album preproduction takes 6-8 weeks from the time you approve the final design.
Do we get every single photo you take on the day?
Generally yes. I do delete images I've used to test exposure in difficult lighting or when a person has clearly blinked in the shot. You can expect between 500 & 700 images depending on how much time we have.
Will our proofs be re-touched?
All images are colour and exposure corrected during proof production. The images you choose for prints, enlargements or album pages are fully re-touched according to your personal preference. This includes removal of blemishes, smoothing skin and adjusting light and shade to highlight the essence of the shot and create an artistic masterpiece.
Special offer on Complete Package!